So, who suggested Kilkenny? I don't really know….but, that's how things work  here – someone comes up with an outing idea, writes it up on the whiteboard in the hall, and next thing it's turned into a major expedition!
About noon on Sunday 28th January, a contingent of 8 Glenarders (Cata, Mercedes, Maddi, Ana, Jessica, Kristia, Bridgit and Lucy) reached Kilkenny after a long bus trip spent playing charades.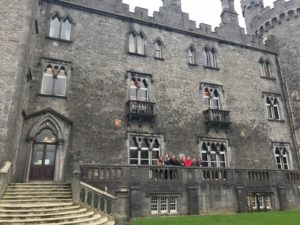 First stop: Kilkenny Castle, where certain people (who shall be nameless) delayed everyone out in the cold, as they tried to take the perfect photo of the castle.
It was suggested to them that they could, for 50c get the exact same photo, with a BLUE sky, on any postcard in any of the shops; but they preferred to snap their own….
A tour of this beautiful castle was followed by (another) photoshoot on the terrace, an excellent "Sound of Music" re-enactment around the garden, and a picnic lunch.
After lunch we enjoyed the tranquillity of The Black Abbey, and climbed to the top of Saint Canice's round tower – at the top of which we admired the fantastic view, and at least one of us discovered a chronic fear of heights!
Before breaking up – some to go back to Dublin, some to stay in Kilkenny – we decided to finish off with an authentic Irish experience: eating ice creams in January!